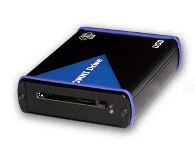 CSM
OmniDrive USB2 Professional
[ART0020710]
This
made-in-Germany
USB interface PCMCIA card drive supports ATA flash PC card and SRAM PC card.
It adds one standard 16-bit PCMCIA card slot to desktop and notebook computers through a USB port; allowing computers without PCMCIA connectivity to read and write the 16-bit PCMCIA SRAM card, PCMCIA ATA Flash card, PCMCIA ATA hard disk, and other smaller form memory cards (such as CompactFlash, SD, MMC, .. etc) in combination with with an appropriate PCMCIA adapter.
To read/write PCMCIA Linear Flash card, please order OmniDrive USB2 LF or OmniDrive USB2 LF/SD.
This USB to PCMCIA memory card adapter, CSM OmniDrive USB2 Pro, accepts Type I (3.3 mm thick) and Type II (5 mm thick) 16-bit PCMCIA memory PC Cards. Users can connect this PCMCIA card drive to USB 1.1 or USB 2.0 port of a laptop (notebook PC) or desktop computer, to operate 16-bit PCMCIA memory cards including ATA Flash, ATA hard drives, and SRAM card. It also read/write CompactFlash (CF) card in combination with a PCMCIA card adapter.
Note: OmniDrive USB2 Pro does not support 8-bit PCMCIA memory cards, 32-bit PCMCIA CardBus PC cards, and 16-bit non-memory-type PCMCIA PC cards. To read/write 8-bit PCMCIA memory cards, please click here.
CSM OmniDrive USB2 Professional PCMCIA Memory Card Drive works with Microsoft Windows 98 / ME / 2000 / XP / Vista / 7 / 8 / 10 / 11 [32-bit & 64-bit]